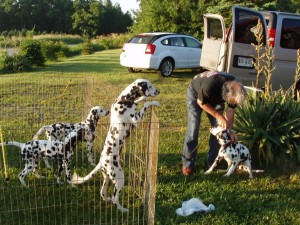 We know it can be difficult to find "pet friendly" lodging. That is because we have 2 dogs ourselves.  When we travel, we not only have to look for "pet friendly" hotels, B&Bs, or vacation rentals, but we also have to make sure they take not 1 but 2 dogs!  That can be a real challenge, and certainly cuts down the choices to very very few.  So, since we know our dogs are well behaved, crate trained and potty trained, we figure there must be others like ours that should be welcomed anywhere with open arms. As long as your dog[s] fits that criteria, they are welcome.
It is much nicer to share your vacation or weekend getaway with your dog.  Especially out here where we are located, which is a nature lover's paradise and has so much open space for dogs to run. They simply love it!  They can go hiking with you almost anywhere, and there are restaurants with outside seating that allow you to bring your dog.  And, should you chose to go to dinner in peace without dogs, you can leave your dog at the B&B.
We do have limitations. One time a would be guest wanted to stay in our smallest room with 4 dogs.  For the sake and comfort of others, we simply could not allow that.  Would love to, but we are not big enough for that.  We did have a dog breeder stay with us once with about 8-9 dogs, however they spent the night crated inside her van.  They behaved very well and slept quietly thru the night.  Since it is always cool up here at night, they could stay in the van in the summer and not have to worry about the heat.
So for all you folks that want to take your dogs with you when you are looking to get away, come stay with us!