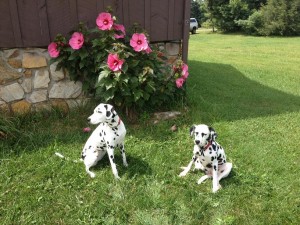 Flowers always bloom late in the mountains, but hibiscuses take the prize.  We have to wait until September to see these beautiful flowers.  Actually, this year one of the bushes started blooming at the end of August. The other one will probably not bloom until October!
I took a picture of our two 4-legged girls with the beautiful flowers!  Don't they look cute?  With all the rain we have had this year, the grass is the greenest it has ever been, and the dogs have had a blast running around the house.
Happy Labor Day to everyone!  Which brings us to start thinking about fall.  If you are planning to visit us during fall foliage season, make your reservations early, because the best times go fast.
Before you know it, the weather will start turning colder, and the leaves will start changing colors.  We look forward to visiting with returning guests that are planning a fall visit!