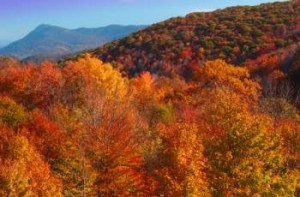 The long awaited fall colors have arrived.  We have beautiful colors all around the area.  It came early this year, just as I suspected.  The good thing is that now most of the colors are at or above us, then they will be at or below, and keep on going down the mountains, so there is plenty of time to plan your trip to the mountains.
There are plenty of fall festivals all around the High Country.  We've already had the Festival of OZ. Next weekend is Oktoberfest, and the following is the Woolly Worm Festival.  We have absolutely no rooms for next weekend.  If we had 100 rooms, they would all be rented, based on the number of calls. Unfortunately, that weekend has long been sold out.
This Wednesday we start welcoming the guests of the STEPHEN – CARALYN wedding.  We know they will have a good time and hope the weather is nice!