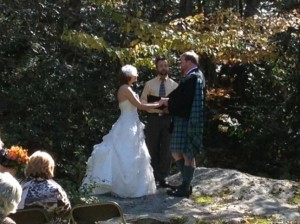 This last week was quite busy at Alluring View B&B!  We welcomed the guests of the Stephen-Caralyn wedding earlier in the week, and also welcomed the return of previous guests on Friday.  The area is full of tourists with their cameras, trying to capture the beautiful colors of Mother Nature.  Anywhere you go,  the mountains are adorned with bright colors!
Our wedding guests had a few days packed with fraternizing and lots of food.  The actual ceremony was on Saturday afternoon, and although we barely saw the bride, we did manage to take some photos.  The groom, his dad and 2 brothers all dressed in traditional Scottish attire [kilts].  The groom's family and some of their friends and relatives stayed with us, and enjoyed numerous meals together.
The other guests this weekend were old guests that have been looking forward to spending some time in our beautiful mountains.  They could not have picked a better weekend!  It is hard to predict which week will have good color, but this weekend was certainly nicely colored.  We are now enjoying the gorgeous photos taken by Nikki of "His Glory Creations" during her visit this weekend and will post some of them soon!
Now that this group has gone home, and we are waiting for the next guests to arrive this evening.