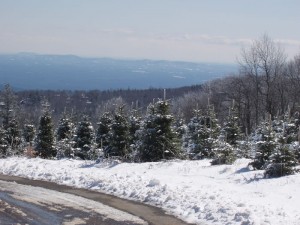 Starting now all our guests and friends can come and get their Christmas Tree from our patch.  You can choose a tree, and we will cut it for you, so come prepared to take a Christmas Tree home with you, if you so desire. That means, try to bring your stand, and a vehicle that can take a tree.  Prices are great  and the trees could not be fresher!   If you stay with us, you can get a tree for $30-$40 depending on size.
We are located in Jonas Ridge, between Linville Falls and Linville [home of Grandfather Mountain].  Our trees have been growing for 8 years. It is amazing how long it takes for these trees to grow.  With the snowfall we had this week, they looked beautiful.  We have had so much wind that most of the snow is gone. But don't worry, there is plenty of snow nearby, and all the roads are clear.
For those that enjoy skiing, Sugar Mountain Ski Resort in Banner Elk opened on Halloween! So if you want to ski, come prepared.
For those that enjoy hiking or horseback riding, or even taking scenic drives, that is also available.  This weekend will bring great weather and sunny days. We hope to enjoy it.