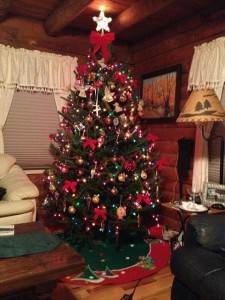 We enjoyed a very nice Thanksgiving with returning guests.  Lots of chats, rehashing the elections [thank God everyone was on the same page!], and several meals together.  It was very pleasant and the weather was great. Even the dogs had a great time!
Now that Thanksgiving is in the books, we turn our attention to Christmas.  Come stay in our cozy log home B&B. It is all decorated for Christmas and in the evenings we light candles and put on Christmas music in the living room.   The weather has been quite mild with daytime highs in the 50s.  And when you leave, you can take a beautiful Christmas Tree home with you.  There are many places nearby to choose and cut your tree.
Like to ski?  Then come on over and spend a few days at Alluring View B&B in the Blue Ridge Mountains.  There are 3 ski areas close by, and all 3 are now open.  Sugar Mountain was the first to open, as usual.  Ski Beech opened about a week ago, and now Appalachian just opened this weekend. So you can take your choice.  Snow tubing, ice skating, snow boarding and downhill skiing are all available.
Don't like to ski?  You can always visit Grandfather Mountain, North Carolina's number one attraction, located in Linville, just 7 miles from Alluring View.  Or do some hiking in Linville Falls or along the Blue Ridge Parkway.  If you prefer walking, you can walk all around Price Lake, a lovely 2.5 mile walk.
If exercise is not for you, then you can do some shopping in the many local interesting shops such as the Mast General Store, antique shops, and others – or if you prefer, at the Tanger Outlet Stores in  Blowing Rock.
Now that the busy season is over, and the leaves are gone, it's an excellent time to visit the mountains. We hope to see you before Christmas!  And we still have some availability during Christmas!