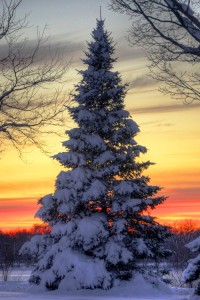 It's that time of the year again. Christmas is upon us – and just in time for Christmas, Mother Nature brought us a big snowfall!  It snowed for over 24 hours and all the local ski areas are open and have plenty of snow.  Today we drove around and went shopping to Boone. Some areas got more snow than others, but all got some.
We've actually been enjoying a relatively mild winter.  But, it is supposed to snow again on Christmas Eve and Christmas Day, so maybe all our guests and us will be lucky enough to get a White Christmas!  We'll see.  Temperatures this morning were down in the high teens.  Wherever you may be on Christmas Day, may your day be filled with laughter and good times, may Santa bring you all you hope for, and may you hopefully spend it in the company of loved ones.
To all of those that visited this fall, we want to let you know that our girl Riva had 8 beautiful healthy puppies on the eve of Thanksgiving – 4 boys and 4-girls.  Mommy and puppies are doing great.  When you all come back next year, we just may have an addition to our brood [I think we are crazy!].   Below is a photo of all the little pumpkins.
If you are traveling during the holidays, we wish you good weather and safe travels.  We look forward to seeing everyone again next year!
We wish everyone a blessed and Merry Christmas and all the best in 2013!