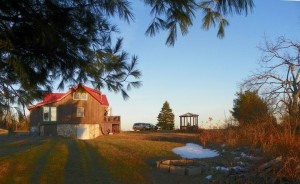 Welcome to Alluring View Bed and Breakfast and its amazing long range panoramic views.  It is located just off the Blue Ridge Parkway, between Grandfather Mountain and Linville Falls, in the area of Jonas Ridge.  At over 4000 feet elevation, up an easy to drive paved road, on a flat mountain top, you will find the cozy, log home that is Alluring View B&B.
The panoramic views are almost 360 degrees!  There is a long range view out of every window of this house!  To the west, you can see Mt Mitchell [the highest peak east of the Mississippi], Tennessee, and the most amazing sunsets.  To the south, you have an unobstructed view of Linville Gorge with nothing man-made in sight.  This view of endless cascading mountain tops is absolutely breathtaking, and has been the backdrop for the exchange of vows of all the weddings we have hosted.  To the east/southeast you see Lenoir, Hickory and beyond. At night there is an amazing "sea of lights" visible from these towns.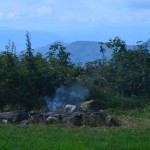 On the grounds, you can choose to sit and talk or read in the gazebo, or make a fire in the fire pit to enjoy the outdoors and roast marshmallows to make s'mores.
The house has 5 bedrooms and all of them have a nice view!  The cozy living room has a rock fireplace where guests gather to chat most evenings. Wireless Internet is available throughout the house.  There are no telephones in the rooms.  For larger groups, we have a cabin very close by that we can also rent.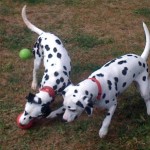 We are PET FRIENDLY, as long as your dog is potty trained, social and friendly, free of fleas, and up to date on all shots.  Do let us know if you are planning to bring your dog.  We ask that you leave your dog crated if you plan on leaving it in the room alone.  If you need a crate, ask, we may have a spare.  There are 2 resident dogs.
We strive to make your stay with us an enjoyable experience.  Please let us know if there is anything else we can do to make your stay at Alluring View B&B more comfortable.