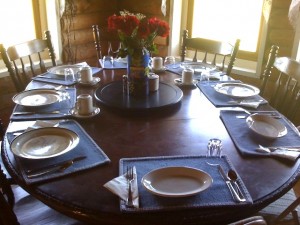 Breakfast at Alluring View is a real treat!  The innkeeper, Chef Albrich, is a true professional chef by trade.  He has cooked for well-known, discriminating palates both here and abroad.
Chef Al, as he is called, will prepare southern favorites with an international dish here and there.  We use farm fresh eggs from the farmers around us.  They are delicious and healthier. We also serve local grown potatoes, fresh real cream, real butter, fluffy biscuits, percolated coffee, hot English tea, latte and espresso.
Alluring View B&B has a large vegetable garden on the grounds, as well as a fresh herb garden. Whenever possible, we use vegetables & herbs from the gardens on the grounds to prepare the food. Vegetables vary from year to year, but they include things like potatoes, corn, green beans, summer squash, zucchini, & pumpkin.  Guests tell us that breakfast is the highlight of their visit.

A typical breakfast may consist of:
Juice
Fresh Fruits
Eggs Cooked to Order, Omelets, Scrambled, Frittatas  or Egg Casseroles
Homemade Speck [similar to prosciutto, but smoked]
Bacon, Sausage, Ham or other meats
Stone-ground Grits, Cheese Grits, Grits Casserole
Roesti Potatoes
Homemade Potato Pancakes with Sour Cream
Fresh Baked Biscuits, or other breads
Real Butter & Jam
Percolated Coffee, Hot Teas, Latte or Espresso  [coffee served with real cream]
PLUS ONE OF THE FOLLOWING SWEET ENDINGS:
Fluffy Pancakes with Real Maple Syrup (Banana, Blueberry, Pumpkin) – THE BEST EVER!
Chef Al's Signature Apple Dumplings in Orange Sauce
French Toast with Real Maple Syrup
Warm Bread Pudding
Oatmeal Orange Pie
Filled Crêpes