Weddings in the Linville – Banner Elk,  NC area.
Ideal location for smaller affordable mountain weddings!
Alluring View is the perfect location for a mountain wedding, elopement, or renewing of vows. With gorgeous views and breath taking sunsets and sunrises, this is the perfect place to hold an outside mountain wedding.  No wedding is too small.  We can help arrange for anything you might want to rent like a tent, tables, chairs, music, flowers, cake, photos and video.
Use as much or as little of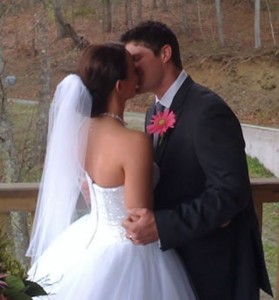 our services as you wish.  As a matter of fact, you can plan the whole event yourself, and just leave the food to us.  Or, you can have us plan the entire thing for you, or use the professional wedding planner of your choice.
Chef Albrich, owner of Alluring View, will work with you on the menu to create something that fits your taste and budget. You can choose a traditional dinner, a buffet, a more informal appetizer reception, or a very popular grilled menu.  The chef will create the menu that is right for your event.
So, whether you want a spring, summer or fall wedding, if you would like to get married in the mountains [Linville, Banner Elk or Blowing Rock areas], consider doing it at Alluring View B&B and give us a call to start planning a truly memorable day.
You can also talk to us about catering your Rehearsal Dinner, Bridesmaids' Luncheon, and Sunday Brunch after the wedding.
For additional information, please email info@alluringview.com,  or call us at 828-733-2718.