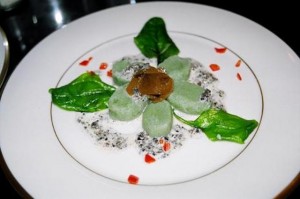 Chef's Table at the View – Available for guests and anyone who wants to enjoy excellent cuisine.
RESERVATIONS REQUIRED – Come enjoy the beautiful view, magnificent sunsets, and the delicious cuisine of Chef Al. Have a special dinner prepared just for you any day of the week. Choose the entrée, and the Chef will create the other courses for you from seasonal items. Chef Albrich is a strong supporter of the "farm to table" ideal, so whenever possible the ingredients are sourced from local farms.  Everyone at the table will have the same menu.
For reservations please call us at 828-733-2718 or email us. Dinner will be prepared just for you. Most several course menus are $70-$80 per person.  We encourage you to bring your favorite bottle of wine with you, or whatever you would like to drink with your meal.   Due to the amount of labor involved, we request a minimum of 4 guests.
Chef's Table at the View is a dining experience you won't soon forget.  For more information about Chef Al, go to www.chefalbrich.com
NOTE:  Please let us know if you have any health concerns, or do not like certain ingredients.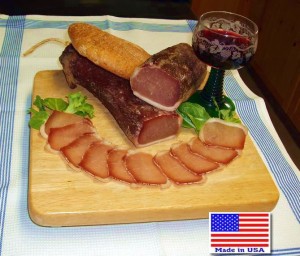 Chef Albrich's Gourmet Products
Chef Albrich makes his own Speck.  This is a gourmet cold smoked ham similar to the Italian Prosciutto and the Spanish Iberian Hams.  Speck is made in small batches and takes about 6 months to complete.  All our guests get to try the Speck.
It is delicious with crusty artisan breads, aged cheeses, pasta, pizza, and of course with a good red wine, not too dry.
Below are different dishes made with Speck!